School of Data in Switzerland
School of Data is a network of data literacy practitioners, both organisations and individuals, implementing training and other data literacy activities in their respective countries and regions. Members of the School of Data work to empower civil society organizations (CSOs), journalists, governments and citizens with the skills they need to use data effectively in their efforts to create better, more equitable and more sustainable societies.
We support the School of Data in Switzerland by furthering network reach, actively supporting trainers, providing or improving learning materials, accessible platforms, locally relevant datasets—and connecting new participants, influencers and funders to the School of Data.
This grassroots project is a working group of Opendata.ch, the Swiss chapter of Open Knowledge: a worldwide non-profit network of people passionate about openness, where the global School of Data began. In establishing a Swiss chapter of the School of Data, we are extending efforts to create fairer and more open information societies through accessible facts, simple interfaces and equitable insights.
Here you will find a brief synopsis of our goals, projects and plans. For more information visit schoolofdata.ch or contact us with any questions.
Intentions
Data literacy is a key tool for supporting democratic values in the modern world. Technology and information could always be more inclusive, and our purpose is to work with children, adults and the elderly, with underrepresented and marginalised groups, with all those who carry a peaceful and constructive message. Our goal is to empower participation in a society where, as the School of Data purports, evidence is power.
Data sources are meant to empower people to work better with expert information, improve services, and advocate for change. Is it reasonable to delegate full responsibility over all relevant data analysis to experts, crowds and algorithms? Based on what evolving criteria do we decide what deserves our private attention, and what do we share publicly? What methods or tools must we learn to tame the 'data dragons' in our work and life?
Feedback loops around data sharing can be catalysed by empowering media, civil society, and individual changemakers to understand and use data that has been released. We aim to help spread data literacy through participatory training and online tools to help people differentiate fact from opinion, statistic from statement - and form ever more nuanced views through weighted analysis, critical thinking, and by asking questions such as:

How can I get facts and figures on a specific topic?
How to edit and analyze various types of data efficiently and correctly?
How are datasets prepared and published on the web?
How are data visualizations read and interpreted by humans?
How do I use data for my own creative communication?
![Screenshot from 2015-06-19 08-26-57.png](http://soda.camp/projects/concept/image01.png) 
What is the School of Data?
An approach that focuses on learning by doing, driven by helping participants address real problems, with real data. An environment where interpersonal motivation is at the core, and skilling-up happening as part of the process. Such methodology has been developed and practiced in almost 40 countries around the world by the School of Data, which offers:
1. Standard and Tailored Training
Thanks to our modular approach to creating courses, we are able to build both standard and bespoke training curricula. School of Data trainings can be as general as covering the whole process from obtaining data to presenting analyses (e.g. Data Skills Basic) or can be specifically tailored to a topic or a sector (e.g. Working with Election Data).
2. Data Expeditions
A data expedition is an exploration-based approach to learning. In a data expedition, you are given a topic to research and learn in a team through exploring real data.  A facilitator guides participants through all of the steps of a data investigation, from formulating the right question through cleaning and analysis, and all the way to then presenting findings. We try to pair participants with someone with more advanced skills, and encourage people to ask and answer questions along the way.
3. Data Clinics
Bring a dataset (or, if data is hard to come by, an idea for what you want to acquire) and talk to us about your hopes, ambitions, or what is causing you grief. A team of data wranglers will walk you through possible ways to ease your pains.
4. Localised training through fellows
The international School of Data fellowship programme aims to to recruit and train the next generation of leaders and trainers to magnify the reach and power of our data literacy programme. The fellows can provide training and ongoing support to journalists, civil society organisations, and individual changemakers to use data effectively.
Where we begin
A number of modules and open educational resources are available at SchoolofData.org and publications such as the Data Journalism. There is, indeed, a wealth of outstanding open education materials from around the Web at our fingertips. People use easily accessible learning materials over the Web to get into a variety of topics at their own pace and time. Massive open online courses (MOOCs) such as Peer To Peer University are a powerful way to connect with fellow learners.
Our group has compiled a set of introductory and advanced units, along with links to relevant online materials - and at least one coach available to guide each in an on-site workshop. Just as importantly we aim to foster collaboration between educators. As teachers and professors discover and start using the curriculum of the School of Data, we wish to support them and their students, and feed their experiences into content improvements.
We believe that the guidance of experienced people like the School of Data Fellows is crucial to sensible and successful learning programs, and hope to help more people to become champions of data literacy. We are therefore helping to build platforms and support networks for future Fellows active in Europe and globally.
Areas of action
Learning at School of Data is project- and data-driven, not curriculum-driven. Central to this are themes and challenges proposed by our participants, anchoring our activities and seeding Data Expeditions. Subject areas we are pursuing with example #projects:
Inclusive information society
Workshops with kids, elderly, teachers, parents, to explore learning in the context of data art and science, start projects that fit into or around the academic curriculum, start mentorships and inspire participants of all ages. #Coder Dojo #Festival of Code
Everyday facts & trends
Seminars to look critically at how the media, advertisements, scientific results, political statements, etc. use data to influence opinion. We learn about how information is conveyed and manipulated with design and psychology. #WIAD
Data culture
From high-tech projects with century old archives, to exhibits with museums and artists at the boundaries of "data culture", we engage in both mainstream and underground art movements with affinities to data and pervasive tech. #BuenzliReboot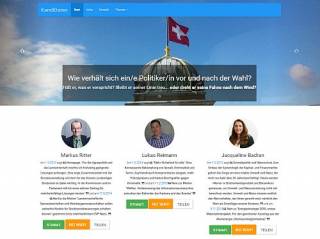 Investigating democracy
Projects to understand the political situation and spread data-first critical thinking during elections and referendums. Living in one of the world's only direct democracies provides a wealth of data and interest. #KandiDaten
Geographies of knowledge
From crowdsensing to geocaching, mapping is one of the best tools for understanding our community and our world. Our team regularly works with maps, and has run several workshops about maps and data. #MapProjects
Local interest
Since announcing our concept last year within the open data community and at public events, we received requests, questions and suggestions from several interest groups:
Individual changemakers: adults curious about the 'art and science' of data.
Teachers, artists, politicians and journalists interested in data for communication.
Government, businesses, policymakers, researchers, who wish for their data to be better understood and more widely used.
The grassroots initiative has grown to over thirty pro bono early supporters, a team of volunteer practitioners who met within the context of the Swiss open data and creative hacking movements: experienced data wranglers, programmers, teachers and organisers, with backgrounds in startups, education and finance. For us, this project has become a virtual sounding board, an idea exchange, a knowledge base, a creative facility.
We aim to increase our ability to understand data and use it in presenting arguments to our fellow citizens. In order to make impact through the art and science of data, we imbue our work with values of pedagogic, cultural, social, political, or ecological development.
We wish to practice and hone our skills in data wrangling and computational art as an optimal medium for creative practice and modern communication. For example, we will endeavour to create beautifully designed infographics, intricate interactive apps, combine massive amounts of information in a small exhibit, make fun of our obsessions with facts and numbers, make our lives more data-ful and more naturally scientific.
Beyond pragmatic arguments around skill transfer, scholastic learning is a privilege in being able to apply our time to learn freely. Switzerland has a tremendous reputation as a country of learning, and we are not daunted by the fact that our fellow residents already have access to a great variety of high quality further education opportunities.
Deployment
We are now in the process of establishing a School of Data chapter in Switzerland as an official Working Group of Opendata.ch, approved at general assembly of the members of this national association in 2015. As network member, our obligations will include:
Translate and adapt the online content of the School of Data into local language and context as well as creating new training materials as appropriate.
Organise regular "School of Data" events, following School of Data principles.
Report key metrics such as number of training events and people trained at them.
Commit to continuously share lessons & knowledge with other network members.
Be an active member of the community including blogging, community meetings, mailing lists, social media, answer questions on ask.schoolofdata.org, etc.
We see our role in the School of Data to be not only a place for learners and potential coaches or fellows to go to in Switzerland, but also as a bridge for people interested in this important area of international development. In this sense it is doubly important to commit time to making improvements to open content, setting up shared platforms, and feeding back our experiences into a global data literacy community.
In our first events since the spring of 2015 (see blog.datalets.ch), we tackled the conceptual challenge of spreading data literacy, collected useful resources and tools, explored what topics we are most interested in for our data dives, what kind of public events we would like to run, and what modules or units interest our first coaches.
In these first workshops we collected feedback and learnings, and created an interest group. Through this formative experience, we have gained confidence and a sense of purpose. We feel that we are ready to start a School of Data Chapter in Switzerland.
Next steps
As documented on the open project board, our goals in 2016-2017 include:
integrating the materials and furthering reach of the School of Data syllabus
organizing regular meetings and least 5 public workshops per year
defining roles & responsibilities together with partner institutions
further developing our platforms for data expeditions at soda.camp
translating content into and between English and national languages (French, German, Italian, Romansh)
These organisational goals will help us to continue to take part in and supporting data literacy in our existing communities, like the make.opendata.ch events which gave the original purpose for our initiative. We have a public calendar of events and pilot activities at which are planning to represent the School of Data and facilitate workshops.
People
Our first data literacy champions are individuals from a variety of backgrounds. Their organisations have provided room or funding for the first events, others expressed interest in working together on projects, many gave us useful feedback. If you'd like to get to know the people and what motivates us to start this project, let's connect.
SODA.camp was developed and is administered by Oleg Lavrovsky, who currently leads the School of Data Working Group as director of Opendata.ch. We currently do not have official membership in the project, and have an open door policy. There are (as of October 2016) a total of:
We generally use Slack for quick conversations, links gathering and notes - then post to the public Discourse forum once events/projects take shape. You can see a list of users and get data on their activities on this page.
Some recent statistics of our Slack channels:
Your team sent a total of 274 messages last week (that's 79 fewer than the week before). Of those, 44% were in public channels, 4% were in private channels and 52% were direct messages. Your team also uploaded 4 files.
Institutional support
To get the School of Data launched in Switzerland, we seek partnerships and would especially welcome contact with institutions who publish and use open data sources and would like to support data literacy resources and workshops. Institutions we already connect with, and in some cases have been supported by, include (in alphabetical order):
More information
If you would like to know more about this initiative, please contact us by writing on our public forum, using social media (@sodacamper), or to colloquy@soda.camp.