031 #e-0010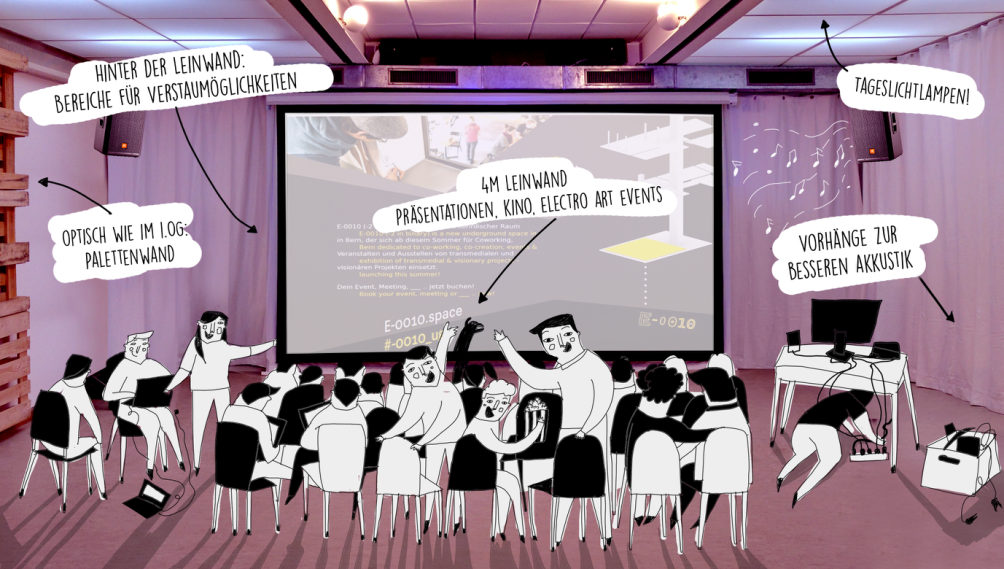 Effinger Goes Underground
Posted on 20.06.2017 by Claudine Etter at Effinger blog. Republished with permission. English translation below.
Da verschwinden täglich, mit Holzlatten und Werkzeugkasten bepackte Effianer im Untergeschoss, und tauchen erst spät Abends wieder an der Oberfläche auf, mit farbigen Händen, Holzspänen zwischen den Schnürsenkeln und einem müden aber zufriedenen Grinsen. Hier tut sich was, in den Tiefen des Effingers!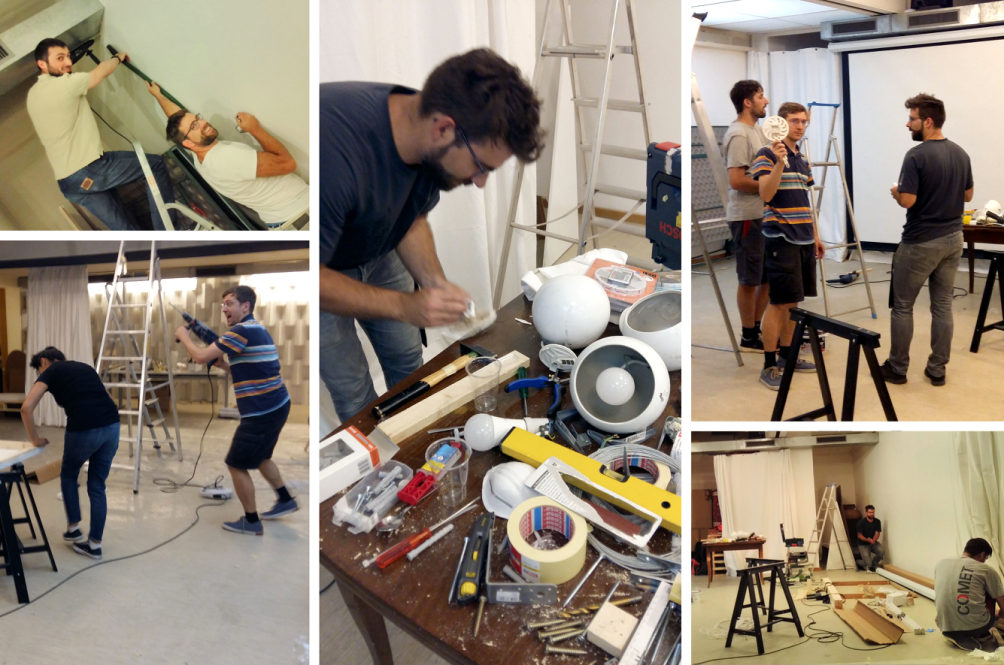 Wer sich einmal nach unten traut, der kann schon Einiges erahnen. Aus einem schlichten Lagerraum von 94m2 Fläche entsteht seit einigen Wochen langsam ein richtiger Multimedia-Saal mit 4m-Leinwand, Beamer, Soundanlage, einem Bereich für fixe Arbeitsplätze und viel freiem Raum für eine flexible und schnelle Umnutzung: Einerseits soll die Fläche und Infrastruktur für grössere Meetings und Events, andererseits für Coworker im Bereich Hard- und Software-Projekte genutzt werden. Als zusätzliche Option würde sich die Vermietung an Vereine und regelmässige Nutzer anbieten, die von der geräumigen Fläche und Einrichtung profitieren könnten.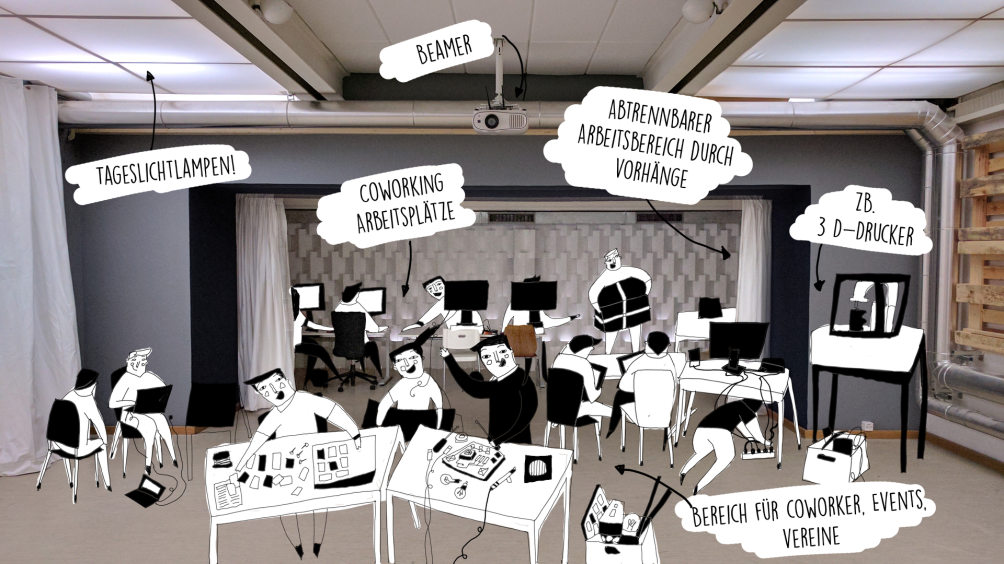 Schwerpunkt und Anliegen von Joni und Oleg, den beiden Initianten der Underground-Idee, ist jedoch die Vielfalt von Effinger um den zukunftsträchtigen und weitreichenden Bereich der Elektro- und Computertechnologie zu erweitern.
"Hier in Bern fehlt ein Treffpunkt für Personen aus der Programmierer- und kreativen Computerszene, der zugleich für ihre Bedürfnisse gut eingerichtet ist und bahnhofsnahe liegt. Wir wollen eine Möglichkeit zur Entwicklung für solche Meetups und Coworking-Plätze bieten."
Eine Art Labor also, in dem man gleichgesinnte Software- und Hardware-Tüftler trifft, an seinen eigenen Projekten arbeiten kann, Unterstützung findet und Tipps austauscht, sich zu neuen Projekten zusammenfindet, sich über die neusten Entwicklungen austauscht, seine Werke präsentieren kann… Im EG und OG findet man zudem Experten, welche die angedachten Arbeiten vermarkten, visualisieren und bewerben können. Unter Jonathans toller Decken-Konstruktion mit Tageslichtlampen würde es sich sogar bei Tag und Nacht in einer angenehmen Arbeitsathmosphäre arbeiten lassen. Also, wer Interesse hat, der soll sich gleich für Infos oder eine Führung bei Oleg oder Joni melden!
Bereits diese Woche wurde der Raum für ein Innovationsworkshop mit Leinwandpräsentation gebucht, und für eine neue Berner meetup für Open Source Software. Schon am 23. Juni wird unten zudem das "We are Cinema", das Virtual Reality- Kino statt finden (es hat noch ein paar Tickets frei - also am besten sofort hier reservieren). Bald wird auch ein Meetup aus der Programmierszene über die Bühne gehen und sicher auch den Weg hier auf den Effinger-Blog finden. Wer also einen Event durchführen möchte oder für seinen Verein, Gruppe etc. noch einen inspirierenden Raum sucht, bitte hier direkt anfragen!
In den Tiefen des Effingers brodeln also die Ideen. Kaum zu glauben, denn so unsicht- und unscheinbar das UG im Effinger doch für die meisten ist, so aktiv wird es von einigen wunderbaren Personen mit Leben und Ideen gefüllt. Herzlich Willkommen, ihr Untergrundhelden, wir sind gespannt auf eure Geschichten!
---
Effinger Goes Underground
English translation by Oleg
Every day, Effianers carrying wooden boards and toolboxes disappear underground, reappearing late in the evening, their hands stained, wood chips between laces, and tired but contented grins on their faces. There is something going on here, in the depths of Effinger!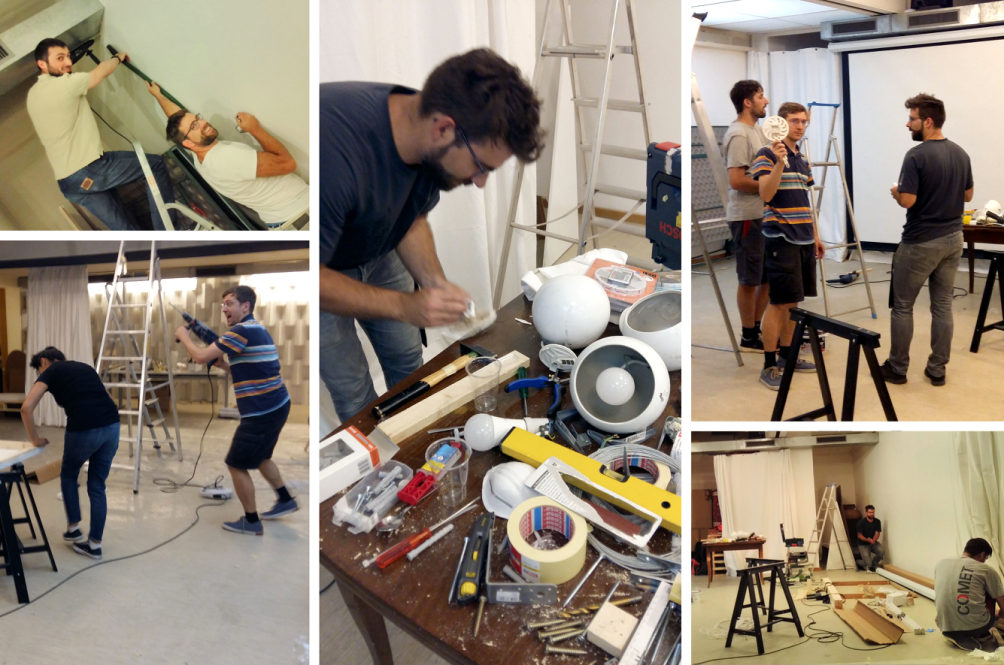 If you dare to lower yourself down to these depths, you might already guess as to what's going on. A dusky old storage room is transforming into a gleaming multimedia space with a 4 meter screen, projector, sound system, an area dedicated to workstations, and a lot of free space for flexible and quickly adaptable meetings or events, or special co-creation use in the field of hardware and software projects. As an additional option, clubs and other regular users can now benefit from spacious space and excellent facilities at the centre of town.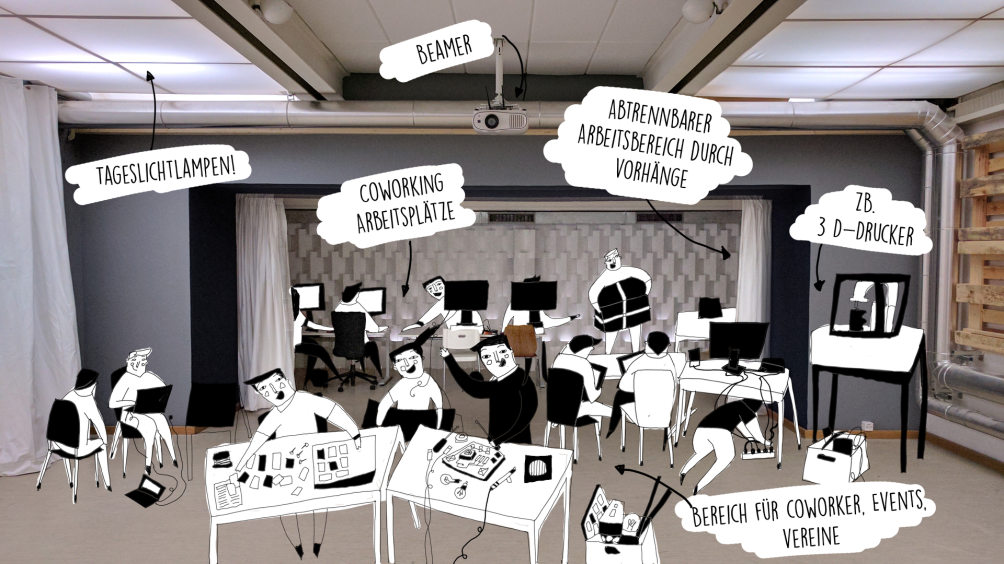 The focus of Joni and Oleg, the two initiators of the underground project, is to expand the diversity of offerings at Effinger in response to the more high-tech-future-oriented and innovative range of electrical and computer technology ideas.
"Here in Bern we need more meeting points for people from the code and creative tech scene, both well-suited to their digital needs and located close to the railway station. We wish to provide an opportunity for development of such meet-ups and co-working places. "
A kind of laboratory where you can meet like-minded software and hardware techies, work on your own projects, find support and share tips, get to know about new projects, exchange ideas about the latest developments, present your work ... In the upper floors, there are also experts who can market, visualize and advertise the work they have planned. Under Jonathan's inventive ceiling construction that features daylight lamps, it would is possible to work day and night in a pleasant, relaxing atmosphere. So, if you are interested, you should get in touch with us for information and a guided tour from Oleg or Joni!
Already this week the room was booked for a meeting for 40 people working on innovation workshops, a new Bern meetup group dedicated to Open Source Software, and on June 23, a Virtual Reality Cinema will take place. Soon more meetups from the Bern innovation scene take the stage and will surely find the way to the Effinger-Blog. If you would like to organise an event or look for an inspiring space for your club, group, etc., please do so directly here!
In the depths of the Effinger, bright new ideas are cooking. It is hard to believe how quickly the underground in the Effinger, so invisible and inconspicuous to most people, gets filled with life and ideas. Welcome home, undergrounders, we are looking forward to your stories!
Originally posted on 20.06.2017 by Claudine Etter at Effinger blog.