065 #swihack
A recap of the hackathon on empowering linguistic diversity in newsrooms, the first event of this type hosted in the SRG SSR headquarters, bringing together journalists and media experts with diverse participants to collaborate on innovative media ideas.
Multilingualism is a quality that we admire in people, especially in a culturally integrative country like Switzerland. Translators can be proverbial or even literal lifesavers in a pinch, and a person's linguistic background is often a topic of conversation. I know how hard - and rewarding - it is to learn another language, and am fascinated both by the mnemonics used by linguists to train their brains, and by the plethora of technological tools we can use to better understand each other. Language connects, and isolates us, like no other tool.
For international observers as well as expats like me, the news service swissinfo.ch (SWI) with its mandate to "take the pulse of the real Switzerland" and voice it abroad, is a source of balanced newscasts and helpful context setting about life in this country.
We at SWI publish in ten languages. Our daily news meetings involve discussions in at least three, sometimes five, languages. This degree of diversity could be seen as a liability; we consider it our greatest asset. That's why we are organizing a hackathon on empowering linguistic diversity in newsrooms on Feb. 21–22, 2020 to mark International Mother Language Day, which celebrates linguistic diversity.
Responding to this public announcement, I volunteered to help run the event that took place last weekend, setting up a website and challenge board, recommending datasets, coaching the team, and of course taking part on location, engaging in the teamwork. This was a truly exceptional event, unlocking my creative spirit and teaching a lot about our role as activists in the profoundly shifting media landscape.
In a lightning talk (recording on YouTube), I kicked things off on Friday with a new 1-minute video from Open Knowledge calling for "A fair, free and open future". In a brief overview of our activism for high quality sources of open data, I drew a line from the Plurilinguism hackathon in 2018 to today, suggesting that, in the words of philosopher Alain de Botton, "The news shouldn't eliminate angry responses; but it should help us to be angry for the right reasons, to the right degree, for the right length of time – and as part of a constructive project." You can see my slides here.
I decided not to pitch the challenge called Translating Access to Data posted earlier due to the fact that we had to set hard limits on the number of presentations, encouraging newcomers to take on the stage, and because it didn't seem like we really had the audience at this event to sweat over the details of data publication standards. You are welcome to contribute through the open document, a thread at okfn.org, or just respond by mail to the idea.
A list of data sources that we compiled was recommended and posted to the hackathon platform. Each of the challenges seemed to have a reasonably clear idea of what kind of information sources they wanted to use, but additional open data sources were explored and used - and there even were new datasets uploaded at the event. The data journalism community helped to set the stage, focus conversations and pitches on data standards and reuse. From this starting point, building follow-up events will be easier.
Our hackathon did not manage to make a lot of connections to the UNESCO celebrations, either in terms of getting official support or acknowledgement, or in following or contributing to events in other locations. Nevertheless, the theme was clearly communicated, and an interesting attempt was made in playing this video and encouraging our participants to learn more about the Endangered Languages Project. By motivating our participants and hashtagging our results, we still hope to connect or inspire other similar events as part of future occasions.
The other lightning talks included, with links to the recordings:
Roberto Salomone (SRG) on the Swiss public broadcaster's API services (YouTube)
Damian Murezzan (SRF) on multilingual word embeds (YouTube)
Kay Macquarrie (Deutsche Welle) on News.Bridge (YouTube)
Tweetpressions of the challenge presentations follow:
You can see all the challenges, learn about the resulting projects and see their pitches and demos at the dribdat site. They will be covered in more detail by others, and I'll link to the articles as soon as they are available.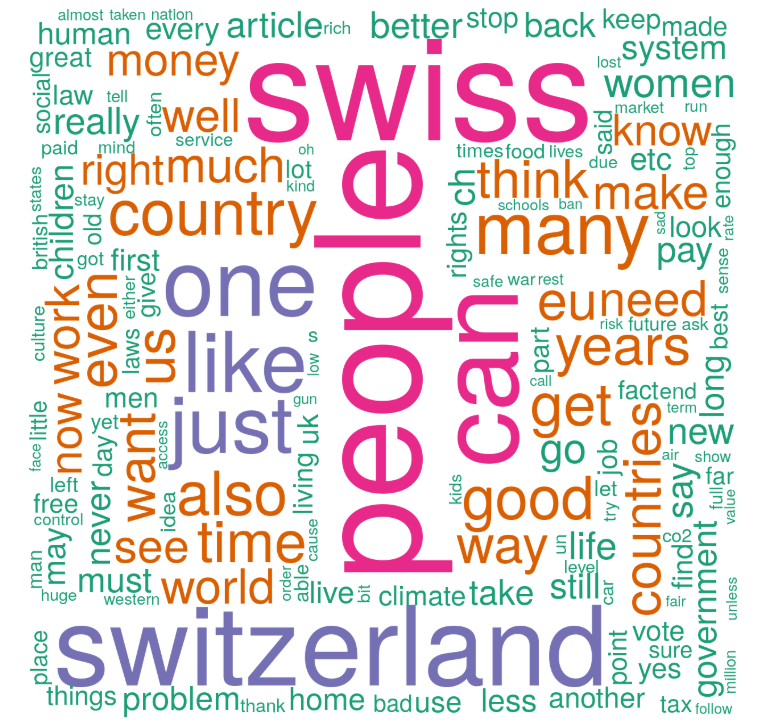 I ended up mostly working with @nigigebi and the ha:hu:: team on the Gamify Language Learning challenge. We ended up first teaching ourselves the basics of the Ge'ez script, being schooled both on paper and social media. Working through a bucket of ideas and designs, we started a simple web app using accessible and lightweight tools.
Our goal to make Amharic language easier and more fun to learn is not the first attempt out there, but it is possibly the first open source project done within a journalistic context, and it was exciting to get supportive comments and tips from far and wide.
My team dived into all this with an adventurous attitude. It is really rewarding when every single person commits ideas, code, data, and enthusiastic words on stage! You can try the app and find out how to contribute to the project, which has full intents of continuing beyond the hackathon, at https://evisat.github.io/gamifylanguagelearning/
Some final thoughts.
"Ritual spaces, by being temporary places of residence, avoided the long-term consequences of having people living in one place."
☝️ Writes Monica L. Smith in Cities, which I mentioned in an earlier post. This might be a good way to think about hackathons: continuing a long tradition of gatherings in shared spaces, focusing communal efforts, building and destroying in seasonal cycles. Our organizers have achieved the objective of bringing people together, filling the room, and getting us to contribute to the context and data sources they set out.
Where and when will they meet next?
The hackathon demonstrated that people are interested in having more dataful, interactive news programs, a cost-saving open source strategy, a revised stance on open content and open data, and making transparency an integral part of the "pulse taking". There was a sound international response, including overseas visitors from at least three countries, interest from data journalism and open knowledge networks, virtual participation from journalists in Portugal, and many supportive exchanges through online channels. The community will support the SRG Hackdays next month and another #swihack in the future.
Thank you very much to Patrick Böhler and Alexandra Kohler for their efforts and massive personal commitment to make this happen. Thanks likewise to everyone who came out in support: contributing their time, ideas, code, crafts and tons of positive energy. We learned a lot from each other, and hopefully all see the path ahead a little clearer.
What happens now at our host institution is in the hands of the management. There are plans in the community to run more events of this type and continue furthering the ways and channels in which we interact, cross language barriers, and share the data. Connect to groups like Opendata.ch and Hacks/Hackers to stay in the loop, and to share your own ideas for the future of multilingual journalism.
In the meanwhile, getting usable autotranslation in Swiss German, well ..that might still take a (little) longer :-)
"As a journalist, it's my job to be sure that, no matter where I'm  living or working, I try to cover issues as broadly and deeply as I can. But it also means that my built-in language bias can be part of the problem, further skewing the global narrative, from basic news reports to media education." --Tanya Pampalone in Watch Your Language