052 #energyhack2019
Outline of the 2019 Energy Data Hackathon by Opendata.ch ~ with behind the scenes data!
~100 participants took part in the Energy Data Hackdays organized by Opendata.ch last weekend in the High-tech Centre of Aargau, Switzerland. The motivating challenges, teams of committed hackers, and open energy data resources enabled 13 future-oriented new projects to be started within 40 hours.
👉 Also check out the guest post by Raffael Krebs, who participated in the Hackdays!
As always, it was brilliant to see how many solutions can be implemented in the 2 packed days! Thanks to the interdisciplinary character of the Hackdays, the challenges and resulting projects were highly diverse. The common denominator of all results was the shared interest in a sustainable energy future for Switzerland, and the use of freely available energy data.
Our hackathon series are known to be the source of thought-out, Creative Commons-licensed project documentation, with insights into the nature and quality of the data used. A list of all the posted projects along with links to their documentation on Dribdat follows: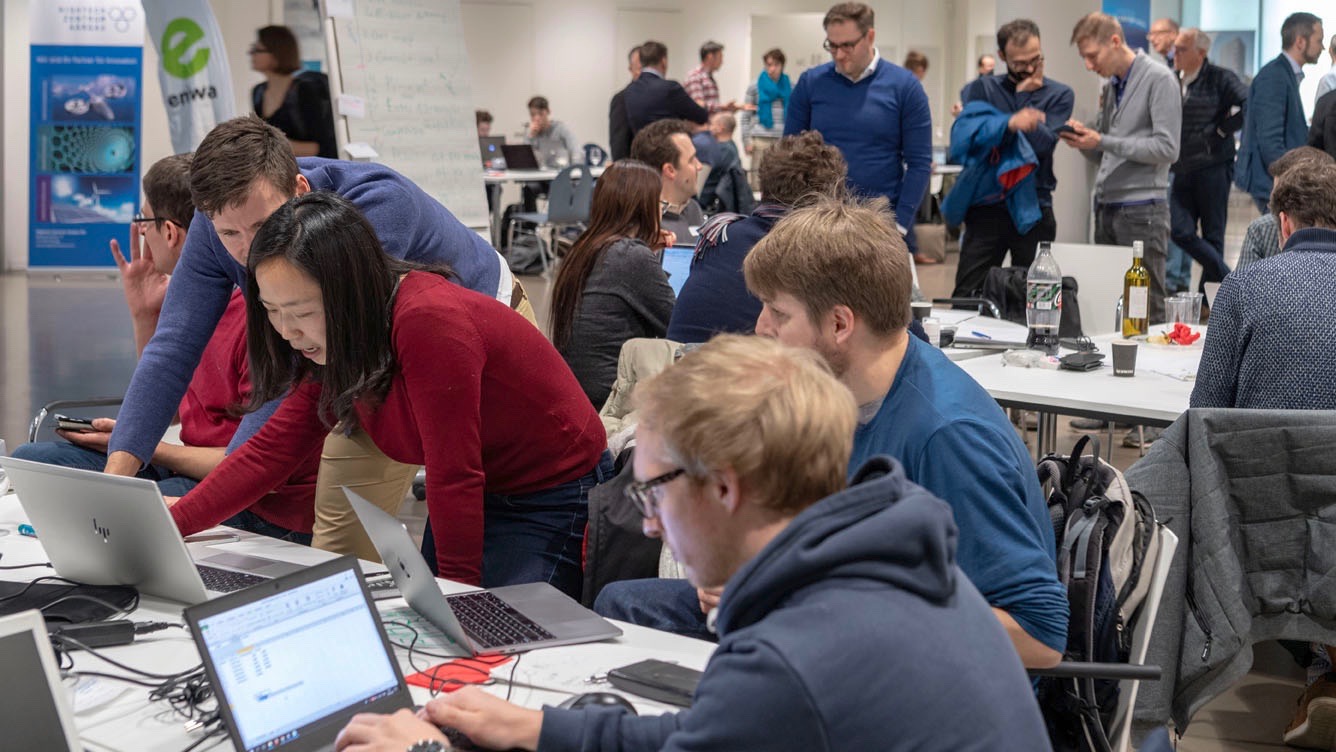 Photo credit: Magazin aargau einsA
The event was organised by the future region Argovia and Opendata.ch together with AEW Energie AG, Hightech Zentrum Aargau AG, Eniwa AG, the Swiss Federal Office of Energy, SBB, Avectris AG and the Energy Department of the Canton of Aargau.
It was surprising for us that more than half of the participants had never been to a hackathon before. Anna from Eniwa was one of those first-timers, who told us what convinced her to participate in the Energy Data Hackdays:
I was most motivated by the exciting challenges. I felt it would be a great opportunity to live out my creativity and exchange views with other industries and perspectives. And that's exactly the way it is now. The joint pursuit of a meaningful goal, the interdisciplinary exchange and the great spirit of the people - it absolutely fulfils my expectations.
Also unexpected was the exceptionally high number of participants staying on site. 15 people who came from outside the region or even from Switzerland for the event stayed overnight in our sleeping areas. Four of them continued work on their projects all through the night.
Behind the scenes
It took 10 months to plan the event. I was part of the organizing team and enjoyed the opportunity to collaborate closely with Matthias Eifert from Zukunftsregion Argovia as well as my colleagues from Opendata.ch, André Golliez and Nikki Böhler, on setting up and executing another terrific set of Hackdays.
Another?
#backstage on #makeopendata #project #klumpenrisiko by #energyhackdays @OpendataCH pic.twitter.com/NcFhvZGqsT

— Mike Schudel ⚡ (@MikeSchudel) April 8, 2016
One of the interesting things about these Hackdays is the three year gap between the two Energy-themed projects the association has run. Last time we had a different format - two amazing but relatively hard-to-reach locations. Fewer people, more focus on energy policy than startups. Yet, some of the themes and projects are closely linked. In a blog post here I describe some of the setup work that went into the first event, the results of which are on our old wiki and hack.opendata.ch #1.
Photo from our tour of the Mont-Crosin wind farm in 2016
Today we have a different situation in regards to data availability. You can see at a glance how the old wiki page compares with the new data resources. We now have over 160 authoritative OGD datasets in the Energy category of opendata.swiss, new approaches to crowdsourcing through platforms like GitHub and DataHub, multiple terabytes of data made available on site -- all to make sure that the sky's the limit when it comes to open data!
By the numbers
How do our events compare in terms of their sheer output? At this year's Energy Hackdays, we announced a collaboration with social scientists of the Bern University of Applied Sciences, who took part in the event making observations and interviews to understand some of the motivations and impacts of hackathons.
To support Nada and Oliver's inquiries, I've been trying to dig into some of our platforms and think about how we can read into, and potentially fine-tune, the quantitative side of our events. If you've been following some of my recent workshops, you should have some idea of what I mean. And if you're following me on social media, you might see me tweeting stuff like these bandwidth utilization graphs:
Here is a quick chart comparing the total number of documented team members, or 'contributors', as well as the number of words in the public-facing documentation and number of commits to the various wiki and code repositories between the two events:
And here are the same numbers, divided by the number of participants for a rough performance comparison:
It looks like we're getting better at this.. What do you think?
⬇ energyhack2019-stats.ods (OpenDocument Spreadsheet, CC0)
Yes we can! Join the Opendata.ch association and ask to be part of the Energy working group if you'd like to have a role in making future events like this happen.
And stay tuned for our upcoming Hackdays in Zuoz next month!
One more thing
I whipped up this little app on Saturday morning in a bout of inspiration and armed with borrowed kitchen supplies. Then bugged everyone to put their power supplies on a scale. What are hackathons if you're not having fun ;-) ? See Jambricks for a more light-hearted take on measuring participation - in this case, of people's commitment to bring their heavy duty computing equipment on site.
via GIPHY
---
The first part of this entry is mostly a translation of the original post which appeared on the Opendata.ch website. I look forward to your feedback via the forum or my contacts.